Fire Extinguishers and the Home: Best Safety Practices for Your Family
Prioritizing Your Family's Safety with M&M Fire Extinguishers in New York City
---
The Vital Role of Fire Extinguishers in Modern Homes
New York City, with its iconic skyscrapers and historic brownstones, demands a unique approach to fire safety. While we often associate fire extinguishers with commercial spaces and offices, their importance in residential settings cannot be overstated. A fire extinguisher serves as the immediate response mechanism, quelling small fires before they morph into larger, uncontrollable blazes.
M&M Fire Extinguishers, having served NYC homes for decades, understands the intricate landscape of urban living. With fires capable of spreading quickly through close-knit apartment units or old wooden structures, having an accessible and functional extinguisher is more than just a recommendation—it's a necessity. Our mission has always been to empower homeowners with the right tools and knowledge to keep their families safe.
Navigating Unique Fire Threat
Diverse as the city itself, the homes in NYC each tell a unique story, and with that, come individual fire risks. Whether it's the age-old electrical system in a vintage townhouse or the state-of-the-art kitchen in a luxury condo, potential fire hazards lurk in unexpected corners. Recognizing these specific threats is pivotal in ensuring that they can be promptly addressed, allowing homeowners to create a safe environment that prioritizes health and safety.
With M&M's experienced team at the helm, homeowners are provided with comprehensive inspections aimed at thorough fire protection. We delve deep into the anatomy of each residence, identifying potential risks, and subsequently guiding residents on the best preventive measures. It's our belief that understanding is the first step to prevention, ensuring every New Yorker has a home fortified against fires.
Installation & Maintenance: The Pillars of Functionality
A fire extinguisher's strategic placement within a home is as crucial as its existence. Imagine scrambling to another room in search of it while precious seconds tick away. Furthermore, like all specialized equipment, fire extinguishers demand meticulous upkeep. Their components can degrade over time, especially if they're exposed to harsh conditions or left unused for extended periods.
Acknowledging this, M&M Fire Extinguishers has curated an end-to-end service. Not only do we assist homeowners in choosing the optimal spots for installation, but our post-purchase commitment also encompasses regular checks and maintenance. We ensure every extinguisher under our care remains primed and ready, offering peace of mind to NYC families.
Arming NYC Homes against Fire Surprises
A tool, no matter how advanced, is only as effective as the person wielding it. While fire extinguishers are designed for simplicity, the chaos and panic of a fire can make even the most straightforward tasks seem daunting. It's one thing to own a fire extinguisher and entirely another to use it decisively when the situation demands.
M&M recognizes this gap and has dedicated resources to bridge it. Our hands-on training sessions cater to all family members, ensuring that everyone, from the youngest to the oldest, is equipped with the necessary know-how. These sessions demystify the extinguisher, transforming it from a mere tool to an extension of the homeowner's safety response.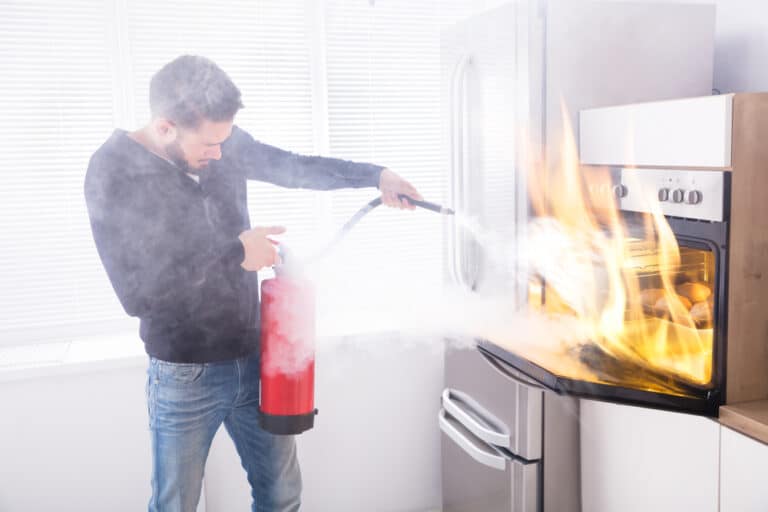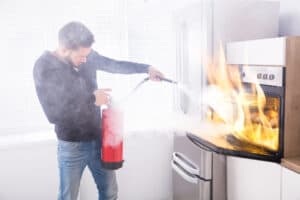 Making Informed Choices for Fire Safety
Over the years, we've encountered myriad objections and misconceptions surrounding fire extinguishers. A frequent refrain is the perceived safety net of insurance. While insurance is invaluable for post-incident recovery, it doesn't offer real-time protection. Material possessions can be replaced, but lives and cherished memories attached to irreplaceable heirlooms cannot.
Another widespread myth is the interchangeable nature of fire extinguishers. Many believe that an extinguisher is a one-size-fits-all solution, but fires are categorized into classes based on their sources, and extinguishers are designed accordingly. At M&M, we consider it our responsibility to educate homeowners, debunk myths, and ensure that every NYC home is equipped with the most suitable fire safety gear.
Why M&M Fire Extinguishers Stands Out in NYC
The Big Apple's vibrant tapestry is reflected in its diverse businesses and service providers. Amidst this, M&M Fire Extinguishers has carved a distinct niche, credited to our holistic and personalized approach to fire safety. Our extensive experience allows us to understand the unique challenges posed by NYC's architectural diversity and cater to them effectively.
Our commitment to our clientele extends beyond mere transactions. We foster enduring relationships, offering services that span the lifecycle of every fire extinguisher we sell. With a penchant for excellence and an unwavering dedication to safety, M&M isn't just a service provider; we are your steadfast partners in ensuring every nook and corner of your home is shielded from potential fire hazards.