NYC's Fire Extinguisher Experts
---
Safeguard Your Property from Fire
Safety should always be a top priority, and when it comes to protecting your property, strategic fire extinguisher placement is crucial. Especially in bustling cities like New York City (NYC), where buildings stand right on top of each other, a minor fire mishap can escalate rapidly, threatening not only your property but more importantly, the lives of anyone on or around your property.
A fire extinguisher, while seemingly simple, plays an extraordinary role in protecting your property and the lives of others from the serious risks that fire poses. If it's placed in the proper position, it can ensure a prompt response to fire, mitigating the possible harm and devastation that fire can cause. In contrast, a poorly placed fire extinguisher may lead to delayed or ineffective fire control, which could result in serious catastrophe. 
To ensure the safety of your NYC property and avoid potential disaster, read on to learn more about the importance of a properly positioned fire extinguisher and some simple and effective placement and maintenance tips for this essential fire protection tool.
Why is Fire Extinguisher Placement so Crucial?
The importance of fire extinguisher placement cannot be understated. The golden rule of fire safety is to act quickly, and your ability to do so is directly affected by the location of the fire extinguishers in your NYC property.
In the event that a fire breaks out, imagine trying to tackle the blaze but your fire extinguisher is buried in the back of a storage room, in a basement, or in some other hard-to-reach location. Even worse, imagine if the fire extinguisher is situated in a room that is already consumed by the fire. These types of scenarios could lead to a critical delay and potentially catastrophic results. By having a fire extinguisher placed in a strategic location, should a fire occur, you could save precious time in the middle of a crisis, making the difference between a minor incident and significant property damage, or even loss of life.
Key Considerations for Fire Extinguisher Placement
When choosing a location for a fire extinguisher in your NYC home or business, consider the following key factors: 
Visibility. All individuals who reside in, work in, or have access to your property should be able to easily see your fire extinguishers. They should not be obscured by furniture, curtains, or any other items. Additionally, everyone on the premises must be aware of the location of the fire extinguishers. Having clear signs indicating the placement of your fire extinguishers is highly recommended. 
Accessibility. Fire extinguishers should be easily accessible in the event of a fire. They should be placed near exit routes but not in a position where a fire could potentially block access to them.
Coverage. Ideally, a fire extinguisher should be within 75 feet of all portions of the building. Special attention should be given to high-risk areas such as kitchens, utility rooms, and places with flammable materials.
Height. The fire extinguishers on your property should be mounted at a height that is easy for everyone to reach. The ideal placement for the carrying handle should typically be between 3.5 and 5 feet above the floor.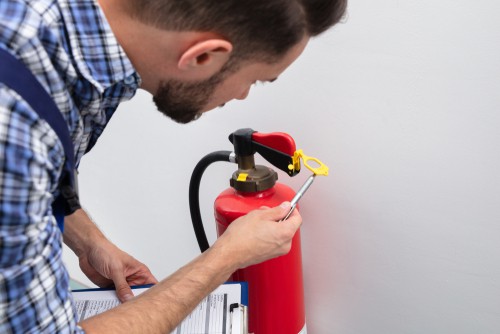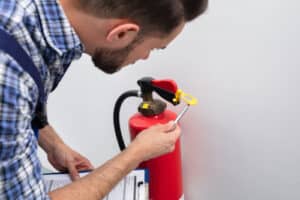 Fire Extinguisher Placement Guidelines in NYC
In NYC, the Fire Department establishes guidelines on fire extinguisher types, sizes, and placement for different kinds of buildings. Residential properties require a minimum of one fire extinguisher per floor, while commercial properties often require more, depending on their size and the nature of their operations.
Multi-story buildings may have additional requirements, such as having a fire extinguisher within 75 feet of travel distance on every floor. It's essential to comply with these local rules for safety and legality.
Training and Maintenance
The strategic placement of fire extinguishers forms only one part of a comprehensive fire safety plan. Proper maintenance and training are just as critical. Every property occupant should know how to use an extinguisher correctly, and regular maintenance checks must be conducted to ensure all extinguishers are in working condition.
For Expert Fire Extinguisher Placement in NYC, Contact M&M Fire Extinguishers Sales & Services, Inc.
The importance of strategic fire extinguisher placement in protecting your property cannot be understated. By following the outlined steps and considering each aspect carefully, you can contribute significantly towards a safer environment within your NYC property.
However, achieving comprehensive fire safety can be a complex task, best handled by experts. At M&M Fire Extinguishers Sales & Services, Inc., we're here to assist you every step of the way. With years of experience in fire safety and a deep understanding of NYC regulations, we can guide you through fire extinguisher selection, placement, maintenance, and training.
Don't compromise when it comes to safety. Contact M&M Fire Extinguishers Sales & Services.