NYC's Fire Extinguisher Pros
---
How to Tell When It's Time to Replace Your Fire Extinguisher
Safety should always be the top priority in any setting, be it in your NYC home or office. A fire extinguisher is one of the most crucial safety tools you can have. However, like any other piece of equipment, it requires regular maintenance and eventual replacement. In this article, we will explore when to replace your fire extinguisher and the signs of wear and aging to look out for.
The importance of a fully functional fire extinguisher cannot be overstated, especially in a bustling city like NYC where fire hazards can escalate quickly. In fact, a fire extinguisher is one of the most crucial safety tools you can have in your home or office. However, like any other piece of equipment, it requires regular maintenance and eventual replacement, as an extinguisher past its prime may fail to perform when you need it the most. To ensure your safety, in this post, we will discuss the pivotal topic of "When to replace your fire extinguisher: signs of wear and aging."
Why Fire Extinguishers Matter
Fire extinguishers are essential in providing an immediate response to a fire outbreak. They can help contain small fires and prevent them from escalating into significant incidents, potentially saving lives and property. However, an old or malfunctioning fire extinguisher can pose severe risks, making it crucial to know when to replace your fire extinguisher.
In NYC, a city characterized by a variety of residential and commercial structures, it is paramount to ensure your fire extinguisher is in optimal condition at all times.
The Life Expectancy of a Fire Extinguisher
Most fire extinguishers are designed to last between 5 to 15 years, depending on their type and manufacturer. However, various factors can contribute to shortening their lifespan. These factors can include poor maintenance, exposure to extreme temperatures, and improper use, among others. 
A fire extinguisher should feature a label, and the expiration date should be clearly indicated on the label. If your fire extinguisher is nearing or has passed this date, it's high time you consider replacing it.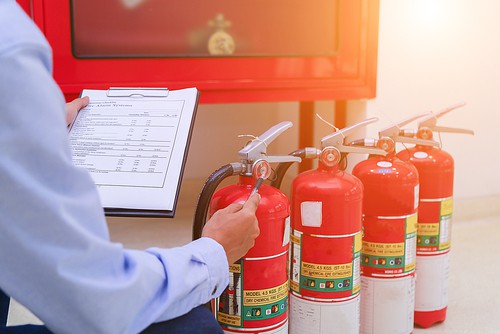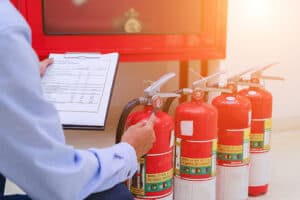 Signs of Wear and Aging
Aside from the expiration date, several physical signs could indicate your fire extinguisher needs to be replaced. These signs include:
Damaged or Missing Pin: The pin is essential in ensuring your fire extinguisher functions correctly. If it's missing or damaged, the extinguisher might discharge unintentionally or fail to discharge when required.
Cracked or Ripped Hose or Nozzle: These parts are crucial in directing the extinguishing agent to the fire. If they're compromised, the extinguisher may not work effectively.
Corrosion or Dents on the Cylinder: Such damages might cause the fire extinguisher to leak or malfunction. Regularly check your extinguisher for signs of corrosion, especially if it's stored in a damp or humid location.
Pressure Gauge Reading: Fire extinguishers have a pressure gauge that should always be in the green zone. If it's in the red or yellow zone, it might be over-pressurized or under-pressurized, respectively, both of which are signs that the extinguisher needs replacement.
Maintenance is Key
Regular maintenance and inspections are essential, as they can significantly extend your fire extinguisher's life. It's recommended to have your extinguisher professionally inspected at least once a year to ensure it's in good working condition. However, routine inspections aren't a substitute for regular visual checks that you should be performing yourself. It's imperative to always keep an eye out for any signs of wear and aging.
Recharge After Use
Lastly, remember that once a fire extinguisher is used, even if it's only partially discharged, it needs to be recharged or replaced. An extinguisher that's not fully charged might not be sufficient to put out a fire.
Contact M&M Fire Extinguisher for All Your Fire Extinguisher Maintenance and Replacement Needs
If your fire extinguisher shows any of the above signs, it's likely time for a replacement. It's crucial to understand that a faulty fire extinguisher not only fails to put out a fire but can also pose a safety risk. When it comes to fire safety, trusting the experts is always a good idea. At M&M Fire Extinguishers Sales and Services, Inc., we provide top-quality fire extinguishers in NYC, tailored to the unique needs of your home or business. Contact us today and let our professionals guide you toward a safer tomorrow.